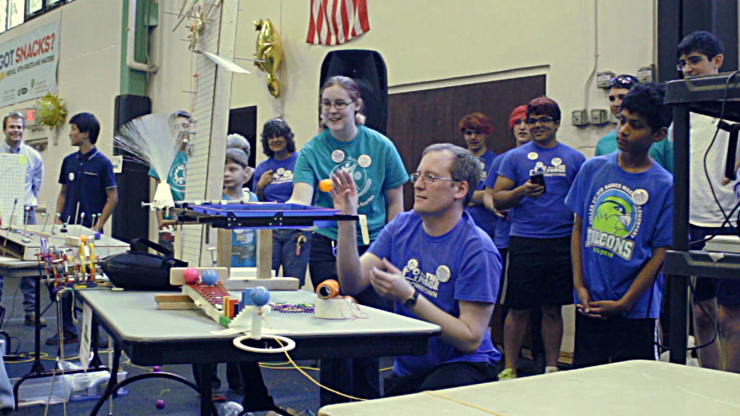 Herb Young Community Center Gymnasium, Cary, NC
May 5, 2018
12:30 PM -- teams start arriving and setting up their contraptions
1:30 PM - Family friendly, hands-on design and engineering activities
Everyone should have their contraptions ready to go no later than 2pm
2:30 PM - Introductions of event participants (& discussion of their contraptions)
3:00 PM - Start Community Chain Reaction
3:30 PM - Chance for public to explore and ask questions about contraptions.
3:30 PM - 4:30 PM - Family friendly, hands-on design and engineering activities
Sample Lesson Plan - 2016 Rube Goldberg Mechanics
The CCR Planning Team has compiled a Sample Curriculum (link below) from the 2016 Rube Goldberg Mechanics (RG Mechanics) class taught by Forge volunteers last year. This doc is full of team builders, video links and activity ideas that you and your team can use to get your creative contraption minds moving!
LINK -- > Sample Lesson Plan - 2016 Rube Goldberg Mechanics (pdf)
The RG Mechanics class was developed and taught by TFI volunteers from Jan - April 2016. The sample lesson plan (link above) is a sample of the weekly activities and team builders used in 2016, and updated for future use by others.
This sample curriculum is based on an informal STEAM learning model developed at The Forge. The D-ELL (Discover, Explore, Learn, Lead) model describes the journey of learning. Discover often happens in moments -- that exposure to a new idea or next technology. Explore is the stage of learning of those who have discovered an area that's interesting, exciting and intriguing to them. Exploring is a critical step in understanding new technologies, new ways of doing things. It's a step where people figure out the problem space they're looking at; trying new things. Learn is the next step with more intentional purpose. And those who have explored and learned, cement those skills by leading -- by showing others, by mentoring, by being role models, by teaching. It's the place where great things can happen with the confidence and skills behind it.
The RG Mechanics class allows students to discover the mechanisms and wonder that are Rube Goldberg contraptions and then moves with them to explore how it all works. In this program, there is minimal formal "teaching" and lots of explore and encouragement time.


---
Team Registration is OPEN!


Deadline to register: April 20
You can also sign up to receive the latest CCR information by clicking THIS LINK.