The Community Chain Reaction is an annual event produced by The Forge Initiative. In 2016 and 2017, the CCR was held at the Coach Kay Yow Court at the Herb Young Community Center in Cary, NC. Teams build their own chain reaction/Rube Goldberg contraptions and bring them together to create a giant chain reaction contraption to display to the public on the day of the event.

For the 2016 and 2017 Community Chain Reaction events, teams with a recommended minimum size of 2 and a maximum size of 6 people registered for a 6 foot table where they displayed their own chain reaction contraptions. Contraptions were designed and set up so that one contraption set off the next contraption, which will set off the next one, and so on, until "The Ultimate Kinetic Machine" finally, the culminating activity was set off! In addition to the chain reaction demonstration, attendees and the general public were able to participate in a number of ongoing family-friendly, hands-on STEAM (science, technology, engineering, art, math) activities.

CLICK HERE for information on how to register a team for the 2018 Community Chain Reaction!
Click on the icon above to view images and video from the 2016 Community Chain Reaction
Click on the icon above to view images and video from the 2017 Community Chain Reaction


What is a Chain Reaction?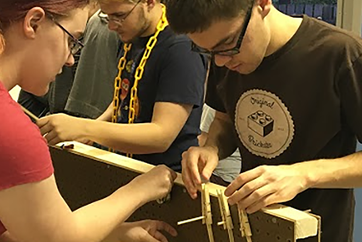 A chain reaction is the interaction of an imaginative set of informal contraptions, sometimes referred to as a Rube Goldberg Machine.
Inspired by cartoonist Rube Goldberg's imaginings, a Rube Goldberg machine accomplishes a simple task through an absurdly complex and improbably set of mechanisms and interactions. Check out some Rube Goldberg's cartoons to see his creativity at work: https://www.rubegoldberg.com/gallery/
Chain Reaction events are becoming popular in communities across the country, particularly in locations recognized for their thought leadership such as at MIT, Purdue, Berkeley, and the Carnegie Science Center.
It's long overdue to start one in Cary, NC.


The Forge Initiative Inc
The Forge Initiative is a Cary-based 501(c)(3) nonprofit whose mission is to engage families and individuals of all ages to collaboratively explore, learn, and lead using technology and engineering. The Forge Initiative has been actively engaging families since 2010. For more information, go to: http://theforgeinitiative.org